Reflections From The Road: Climbing Your Money Mountain
Reflections From The Road: Climbing Your Money Mountain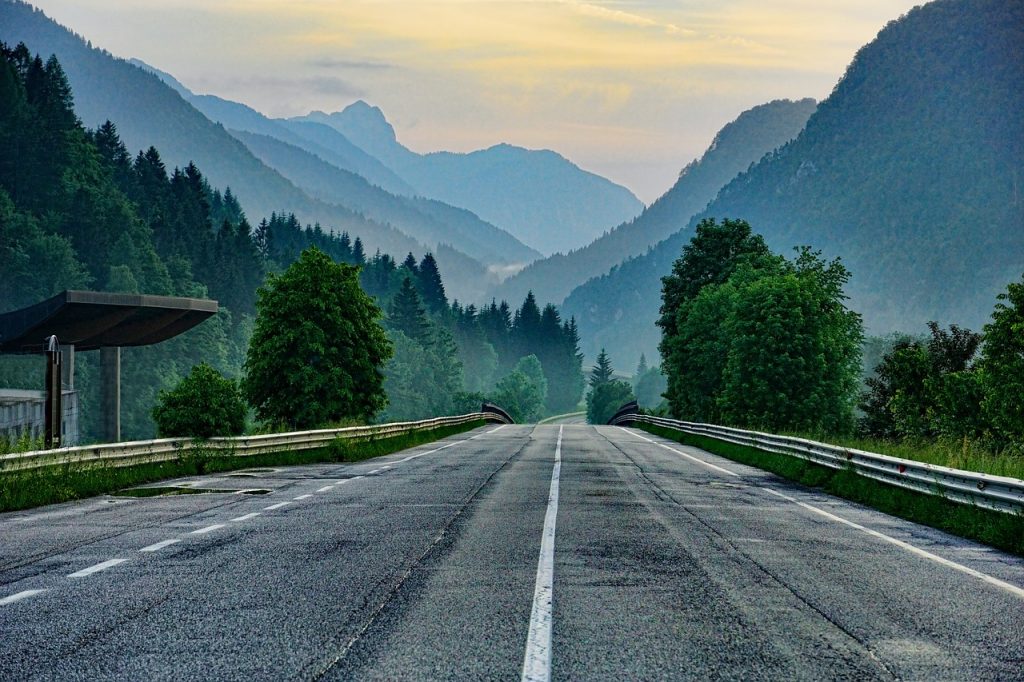 The hotel breakfast room was quiet and empty at this early hour. The only sound was the local early-bird news playing on a lone TV in the corner.
Bleary-eyed from a long day spent hiking Wyoming's Devil's Tower the day before, Mrs. FFP and I silently shuffled along the buffet and filled our plates with continental fare.
As we later packed our bags and loaded up the car for the 5th time in as many days, the first rays of the sun were just peeking over the horizon. And while the first birds started to chirp cheerfully, my wife was noticeably quiet.
I could tell she was nervous. Over the next two days, our itinerary involved traversing two different mountain ranges – and she had a serious fear of heights.
The Magic Of Fall
To understand why we were in that place at that point in time, I need to back up a bit and share a bit of background with you.
Fall marks the onset of a magical season here in Michigan, as evidenced in countless ways. The crisp evening air bearing the scents and smells of harvest. Fresh-pressed apple cider. Grape juice, fresh off the vine. Bonfires with friends under star-lit skies. Hot chocolate and hayrides. The glorious foods of county fairs. High school football games under the lights. The chance to witness the intricacies of forest life from a tree-stand.
All surrounded and highlighted by a beautiful tapestry of autumn's changing colors – the fire red of sassafras, glowing orange of hickory, and bright yellow of maples.
If you haven't already guessed, fall is our favorite season. It's no mere coincidence that we chose it as the season for our wedding, back in the day.
Our Road Trip Decision To Go Big Or Go Home
By way of celebration, we usually take an annual vacation that corresponds with the date we were hitched. In the first few years of our marriage, we didn't have much in the way of a vacation budget, accrued vacation days, or reliable vehicles. But we made the most of what we had to enjoy a few local trips and low-key stay-cations.
As the years went by and our funds and vacation time increased, our vacations grew longer and included out-of-state destinations. After a few of these, we knew we wanted to tour the country more extensively once our funds and careers allowed.
When we started planning our annual fall vacation in the spring of 2014, we decided it was time to go big or go (stay?) home. We'd saved up plenty of cash in our sinking fund dedicated to vacation, Mrs. FFP had retired from her career after we'd paid off our mortgage, and I had just reached a total of 8 annual vacation days at my job.
We settled on a two-week road trip of epic proportions to tour some of the most beautiful and iconic landmarks in America. Major stops on our itinerary included Badlands National Park, Mt. Rushmore, Devil's Tower National Monument, Bighorn National Forest, Yellowstone National Park, Grand Teton National Park, Little Bighorn Battlefield National Monument, and Theodore Roosevelt National Park.
All told, we planned to spend 80+ hours behind the wheel traversing 8 states and 5,000 miles over the course of 12 days.
We'd never embarked on such an adventure before, and with plans for children on the horizon, didn't know when (or if) we'd ever be able to again.  We wanted to maximize this trip to the fullest, and strategically planned our departure date for a Wednesday so we could turn my 8 vacation days into a 12-day trip.
Ever the optimizer, I spent months reading state travel guides, poring over hotel, restaurant, campground, and attraction reviews, planning our route, and travel hacking to lower our expenses.
Stepping Out Of Our Comfort Zone
Growing up, neither of our families traveled extensively. I'd been west of the Mississippi once when I was young (on a trip to Texas), but Mrs. FFP never had.
We were excited to explore the Great American West, but were a bit nervous at the same time. Our planned trip stretched our comfort zone with multiple firsts:
Hiking and camping in mountain lion, grizzly, and wolf territory
Driving through and hiking true mountains
Car camping in our Pontiac Vibe hatchback
Being over 24 hours and 1,600 miles away from home
Being away from home for longer than a week at a time
You have no idea how many hours I spent researching how to defend yourself from cougar, grizzly, and wolf attacks. Watching White Fang and Where The Red Fern Grows at a far-too-young age will put the fear of more than just God in your heart. Thanks, Mom and Dad!
And while I have no qualms about climbing into a 25′ tree-stand, I'm no fan of significant heights. I'm pretty sure this stems back to an early childhood nightmare experience at Niagara Falls. My dad apparently thought it'd be a good idea to perch young, innocent Mr. FFP atop his shoulders prior to standing at the very edge of the falls and looking down over them.
I'm pretty sure he learned his lesson after losing assorted clumps of hair to the raving, screeching, clutching lunatic atop his shoulders. #ScarredForLife
Boyish Good Looks & The Power Of Persuasion
Mrs. FFP is even less of a fan of heights than I. Standing atop a 6-8′ ladder is enough to put her in a tizzy. So you can imagine her consternation when I informed her of my mastermind plan to take the scenic route to Yellowstone by crossing Wyoming's Bighorn Mountain Range and Montana's Beartooth Mountains, elevation 9,430′ and 10,947′, respectively.
After seeing photos of the famous Beartooth Highway, she flat-out refused to take part. I attempted to make my case with a wide-ranging argument that went something like this:
You won't have to drive
I promise to be respectful of your wishes during ascents / descents
C'mon, it won't be THAT bad
Other people do it…
The Beartooth Highway is the most scenic drive in America
We may never get to take this trip ever again
YOLO (You Only Live Once)!
Eventually, I was forced to employ a combination of my (quite subtle) powers of persuasion and boyish good looks over a span of several weeks before she reluctantly agreed.
What I DIDN'T tell her was that even I was nervous about the idea.
Setting Out Into The Unknown
Fall finally arrived and our vacation with it – just in the nick of time. I hadn't taken a single vacation or sick day from work throughout the year, banking them all for the trip instead. Fine by my employer, as my department couldn't keep up as it was.
On top of overtime at my usual job, I'd been working evenings and nights as the Campaign Manager for a childhood friend who'd thrown his hat in the political ring in a race for State Representative. I was short on sleep, tired, and hadn't spent much time with Mrs. FFP in weeks. We were ready for a break.
The morning-of arrived, foggy and overcast. After triple-checking every item on our list, we pulled out of our gravel drive in our Pontiac Vibe hatchback, westward bound. I was both excited and pensive at the same time. A million thoughts raced through my head:
What would traffic be like around Chicago? Would the car hold up on the trip? Would we encounter any dangerous animals? Is there cell service in the deep west? Would car camping prove comfortable enough? Would we be able to stick to our aggressive itinerary?
As we left home behind in the rear-view mirror, we both felt that we were truly setting out into the unknown. By day's end, we'd be five states and over 700 miles away, on the other side of the Mississippi River. Further than either of us had ever been away from home as adults.
Sighting The Bighorns
Fast forward to three days later, and we were not only still alive and kicking but having the time of our lives. We were en route from the Black Hills of South Dakota to Sheridan, Wyoming, the location of our stop for the night.
Adventure had not been in short supply. Aside from those on our itinerary, we had hydroplaned during a downpour on the interstate, jerry-rigged a car repair with zip-ties, frozen while car camping in the Badlands, and witnessed a mountain climber suffer broken bones from a significant fall while hiking Devil's Tower.
After crossing much of Wyoming that day, we caught sight of the Bighorn Mountains on the horizon just as the sun was setting. And what a sight it was: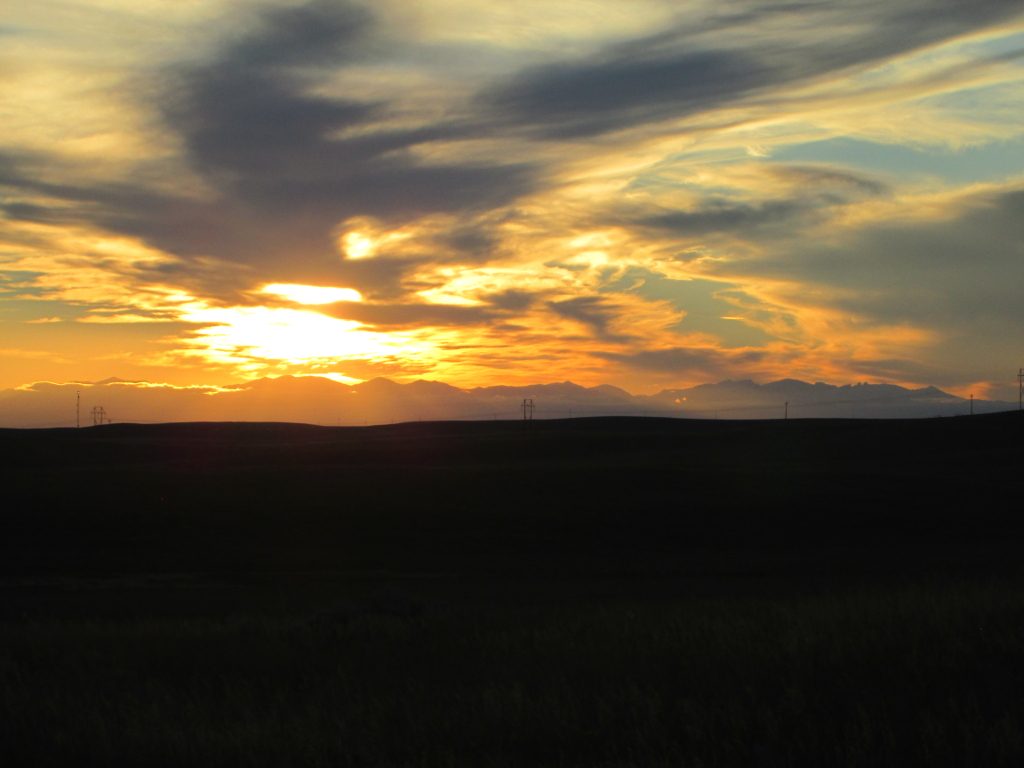 As the sun dipped behind the Bighorns, we were alone on the road. The humming of the Vibe's tires on the pavement was the only sound as the sun painted the sky shades of orange, pink, and red. Mrs. FFP and I were both silent, simply taking in the beauty through our windshield.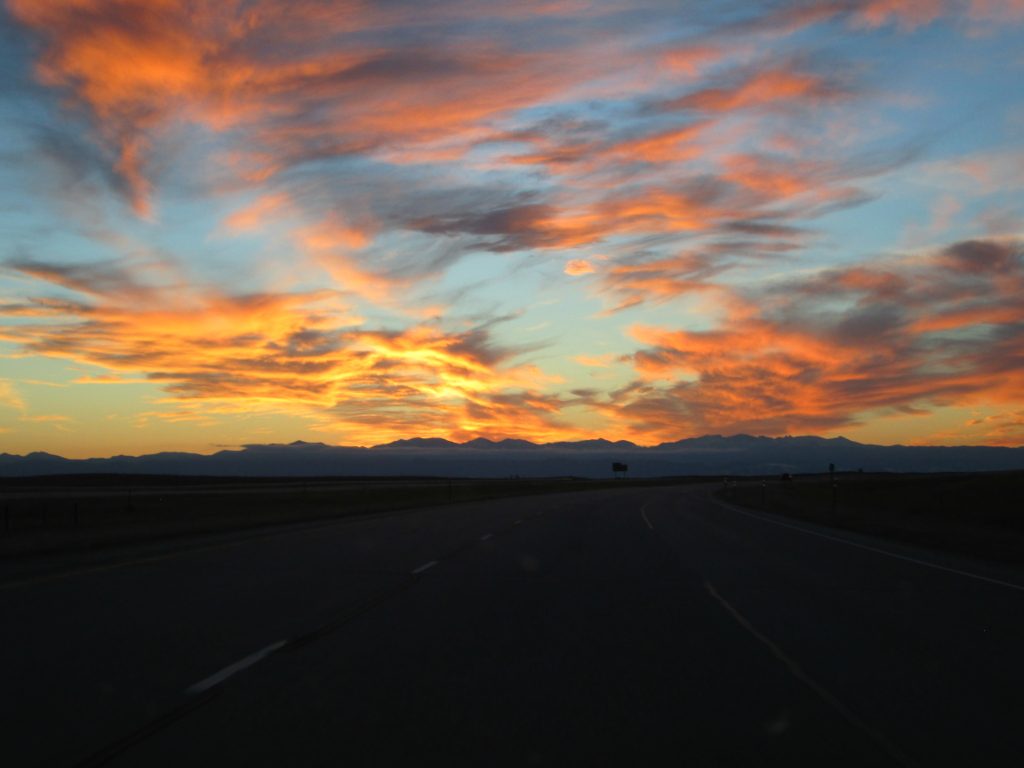 To this day, the 30 minutes following the moment these photos were taken still ranks as one of the most majestic, beautiful, and serene experiences of my life.
We arrived in Sheridan after the sun had set after a long day in the saddle. We caught a quick supper at a local Subway, checked in to our hotel, and caught some shut-eye.
Crossing The Bighorns
This brings us to the point in our journey where this article begins. Mrs. FFP had taken the Badlands and the Black Hills (mostly) in stride. But today would be the true test of her resolve to put her fear of heights aside, with both the Bighorn and the Beartooth Mountains on deck.
As we departed our hotel and drove through the early morning mist, the Bighorns loomed larger and larger. What had initially appeared to be a black coating on the mountainside became recognizable as trees, putting the size and scale of the range in true perspective.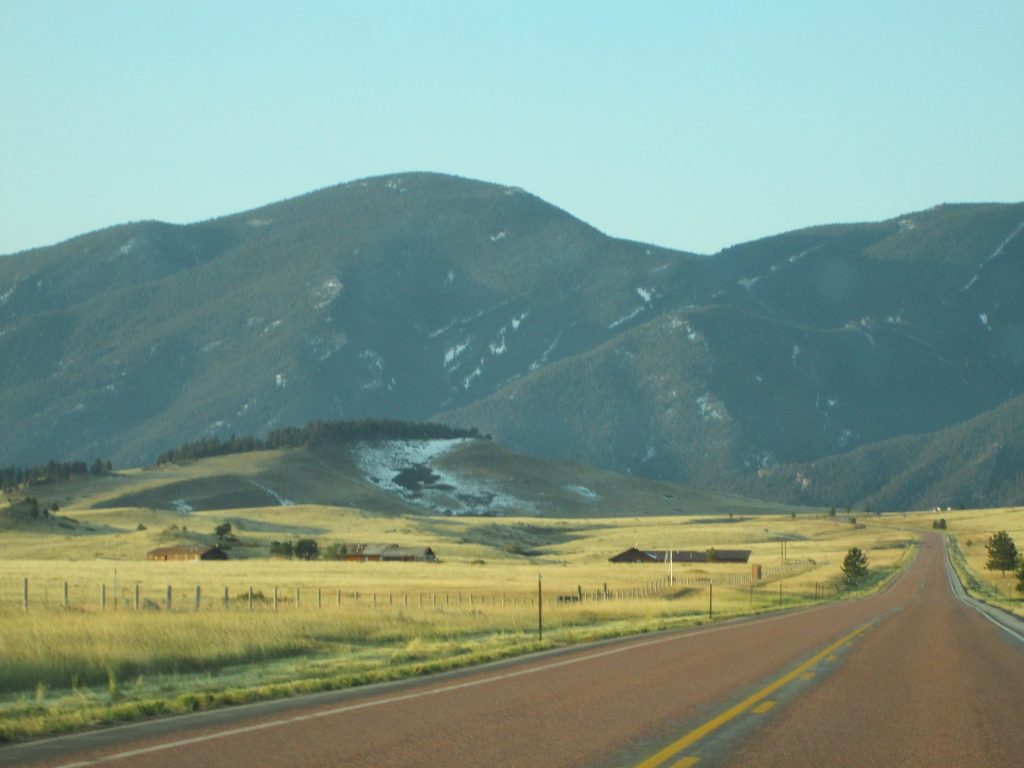 Rolling foothills gave way to switchbacks as we approached the feet of the Bighorns. Mrs. FFP had a firm grip on the door handle as we climbed, but for the most part there were no steep drop-offs and she managed with just some deep breathing.
We stopped at several pullouts on our way up the mountainside and took the time to survey the landscape carpeted by the sun below slowly awakening. There was no other traffic on the road. No wind in the air. The world was peacefully quiet, and the scene below was ours to enjoy.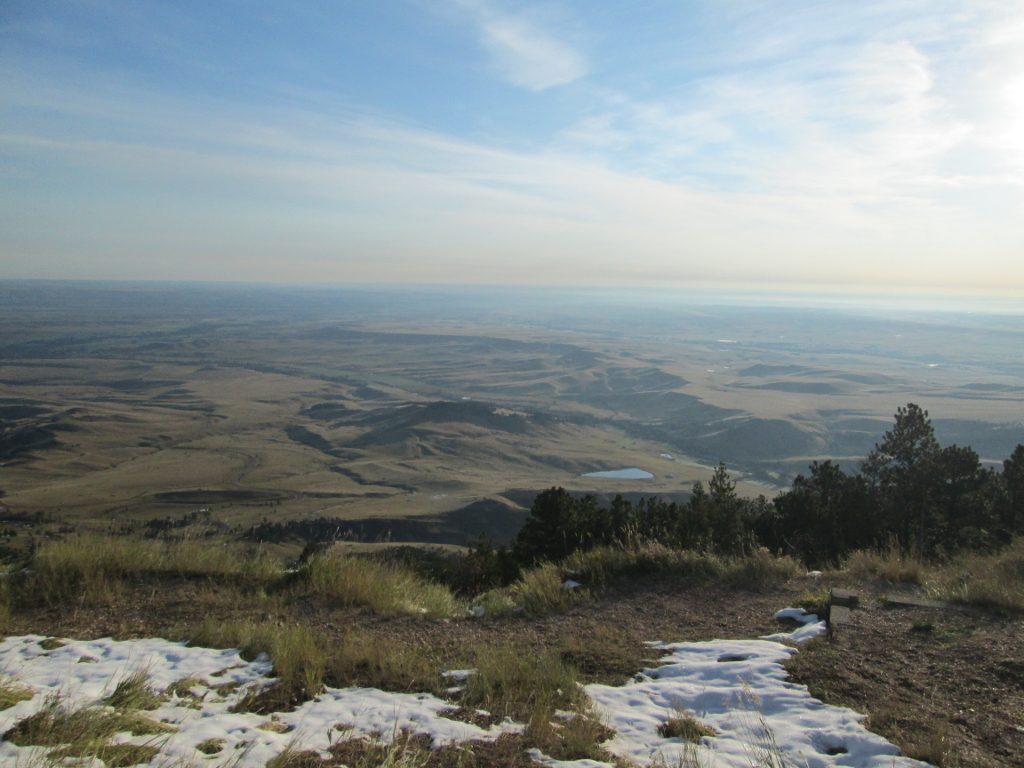 Once we made it to the top, we traveled several miles along an alpine plateau filled with undulating hills, woods, and clearings. At one point we witnessed a female moose feeding on a frost-coated meadow, a sight which only added to our sense of wonder and awe.
The drop-offs on the descent down the far side of the Bighorns were much, much steeper than the ascent had been. Even I was nervous going down the steep switchbacks. I had to be strategic in my use of the brakes in an effort to keep the brake fluid from boiling, and had my hand ready on the e-brake the entire way down.
Ensuring a safe descent kept my full attention, but Mrs. FFP wasn't so lucky. As she would tell me later, the descent was a real "butt-clencher". To her credit, she made it through without hyperventilating, though I believe she was more than a little pale in the face by the time we reached bottom.
A Daunting Climb: Tackling Beartooth Pass
We caught a bit of a reprieve on our way to Red Lodge, Montana where the Beartooth Highway begins. Terrain was mostly flat and open, the sagebrush broken only by the occasional set of railroad tracks.
As the Beartooth Mountains came into view after departing Red Lodge, I marveled at their grandeur. They looked far steeper, rugged, and expansive than the Bighorns. As we approached, Mrs. FFP stated she was having second thoughts. The descent from the Bighorns had taxed her nearly to her limit, and this range looked far more daunting.
We checked the weather over the pass at 10,000+ feet and found it to be all clear. I reassured her that we could take it nice and slow. That wasn't quite enough. With a wink and a smile, I told her she'd just have to trust me.
Proceeding down the highway, we wound in and out of tall mountains on either side, but stuck largely to a valley floor without any significant changes in elevation. The views were magnificent. Wind-swept, snow-capped peaks surrounding us on all sides.
That's when we saw them up ahead – the switchbacks leading up the side of one of those snow-capped peaks, winding into the clouds.
Right. Crap was about to get real.
A Colossal Mistake?
The speed limit up the switchbacks was only 25 MPH, and just 15 MPH in the hairpin turns. I'm not sure how it was possible, but even that felt way too fast. I was white-knuckling it behind the wheel, and Mrs. FFP had to recline her seat so she wasn't looking at the sheer drop just feet from her window.
I didn't have that luxury, and was appropriately scared spit-less. My mouth was dry, my Adam's apple was stuck in my throat, and my hands ached from squeezing the wheel.
I thought I had nerves of steel. Beartooth Pass proved me wrong.
Each switchback conquered only made the next that much worse. I thought we'd never reach the top. By the time we'd made it three-quarters of the way up, I was pretty sure taking this route was a colossal mistake.
But each time my nerves were about to get the better of me, a pull-out would appear. These gave the Vibe's 4-cylinder engine a breather, and me a chance to collect myself.
We were even able to snap some great photos once safely away from the drop-off. Here's one from near the top. That winding ribbon amidst the evergreens on the valley floor? The road we traveled on the way in before beginning the climb.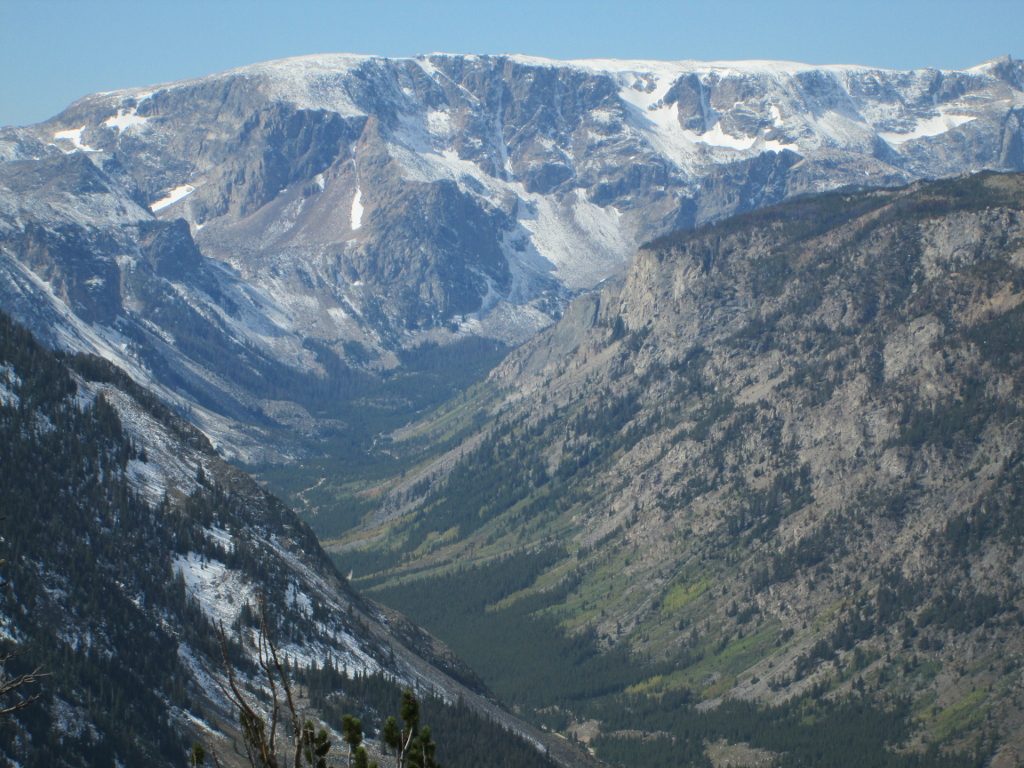 On Top Of The World
Upon reaching the end of the switchbacks and the top of Beartooth Pass, we were able to finally breathe relax and enjoy our surroundings.
The alpine country made it feel as though we were in another world. Meadows filled with flowers we'd never seen before. Alpine lakes clearer than you can possibly imagine. Air so light it felt like gravity barely existed. Clouds so low it felt you could simply reach out and touch them.
Looking out over the way we had come, it literally felt like we were on top of the world. Our surroundings were beyond beautiful – they were surreal.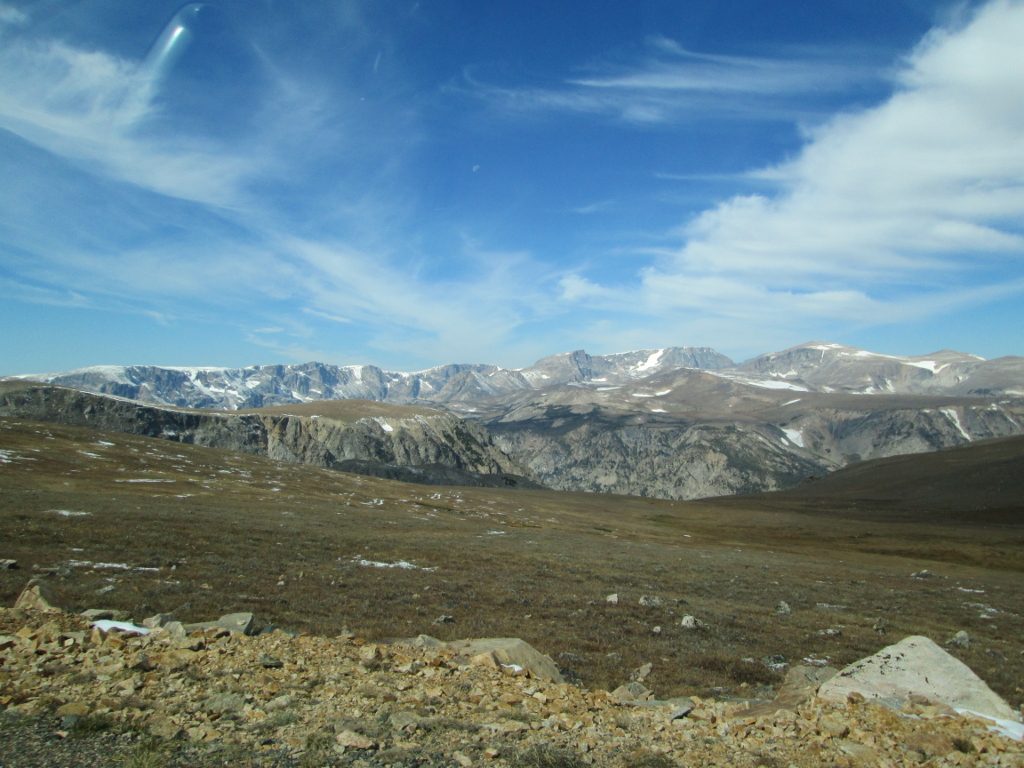 Fittingly, there is a small shop and hotel located all alone atop the Beartooth range, known as the "Top Of The World" store, where we stopped for some ice cream before descending into Yellowstone National Park.
We went on to have the adventure of our lives over the remaining 7 days of our road trip. We were blessed with amazing weather, fantastic views, and too much natural beauty to capture on camera. And while we didn't encounter any mountain lions or grizzlies (fine by me), we did spot a pack of wolves from a distance.
To this day, this trip is hands-down our favorite vacation.
A Mysterious Transformation
The beauty and majesty of the Bighorn and Beartooth Mountains moved us. There was something in their raw magnificence that reached inside us and stirred our souls.
It took us awhile to realize this. It wasn't until a few weeks after returning home to Michigan that Mrs. FFP mentioned in passing (to my surprise) that she missed the mountains. As time passed, her longing for them grew, as did mine.
Their siren song has been calling to us ever since, and we haven't been able to stay away.
Discovering Mountain Beauty
Since witnessing the beauty of the Bighorn and Beartooth mountains, we've visited, hiked, explored, and marveled at Wyoming's Grand Tetons, Washington State's Cascade range (including Mt. Rainier and Mt. St. Helens), Montana's Rocky Mountains, Oregon's Mt. Hood, and Idaho's Seven Devils range bordering Hells Canyon.
If we hadn't conquered our fear and taken on the daunting challenge of the Bighorn and Beartooth ranges, we would have unwittingly missed out on so much of what we now enjoy.
We would have never witnessed the serene beaver ponds interspersing the willow flats bordering the picturesque Grand Tetons: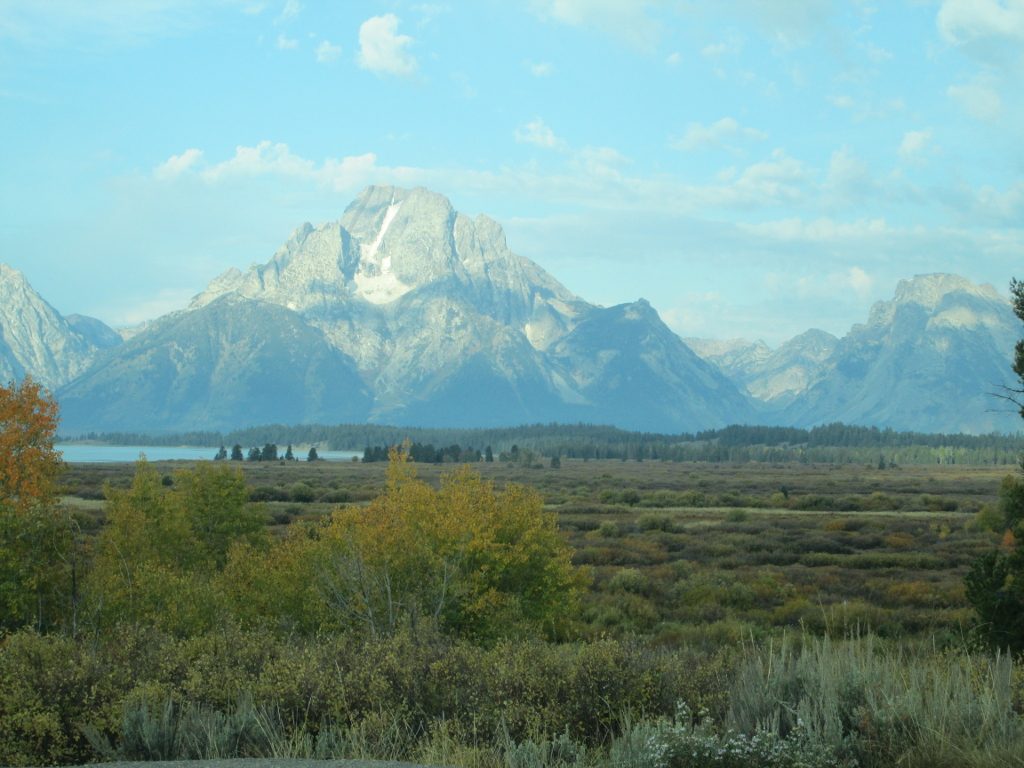 Or seen the feathery ferns and mossy, cloud-filled forest of Washington State's Northern Cascades: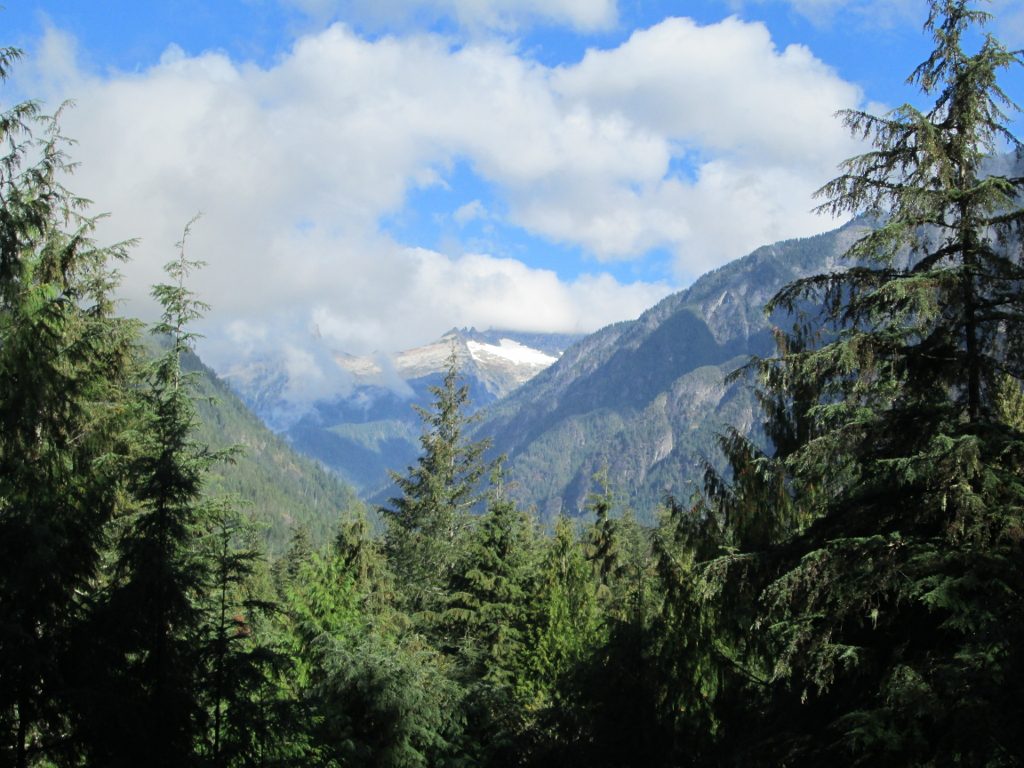 We would have never laid eyes on the phenomenon of glacial silt refraction, resulting in the emerald-blue waters of the Cascade Range: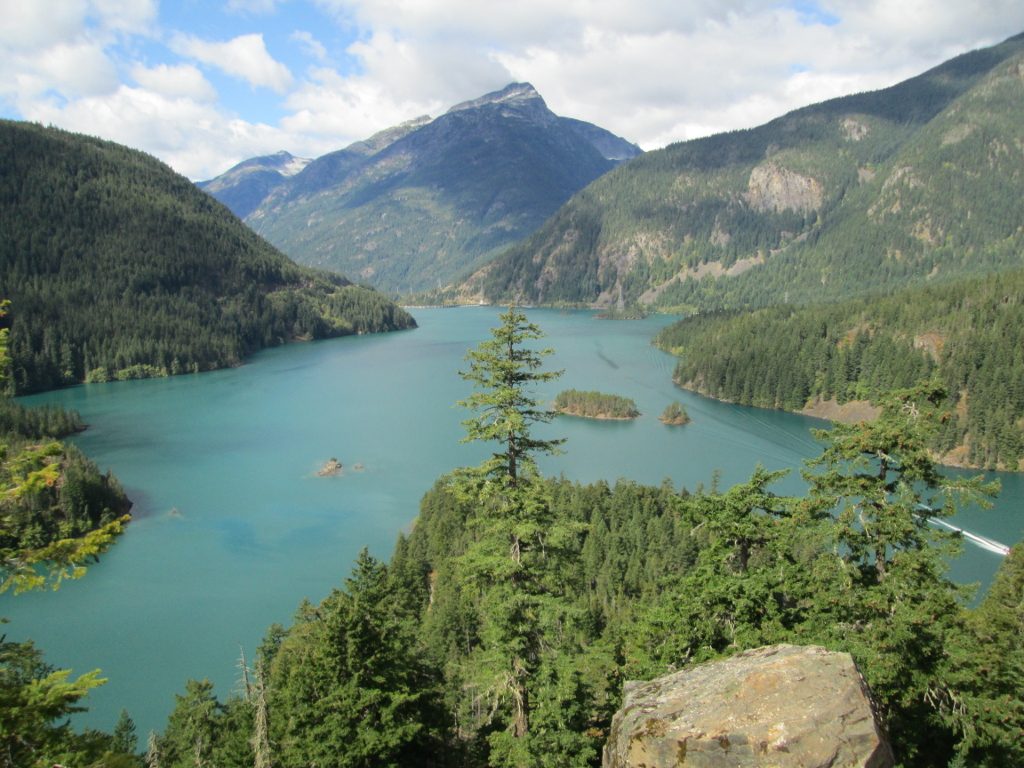 Or experienced the tranquil glaciers and grandeur of Montana's Rocky Mountains: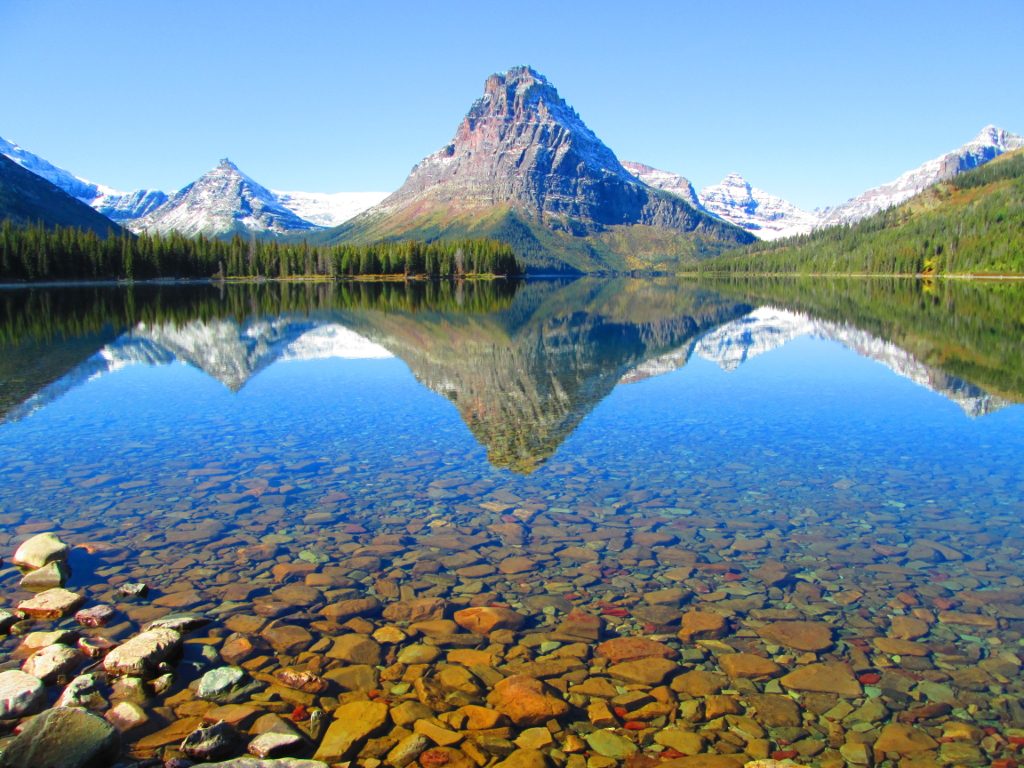 We would have never heard the piercing bugling of bull elk wafting up from a valley floor at sunset in the southern Cascades: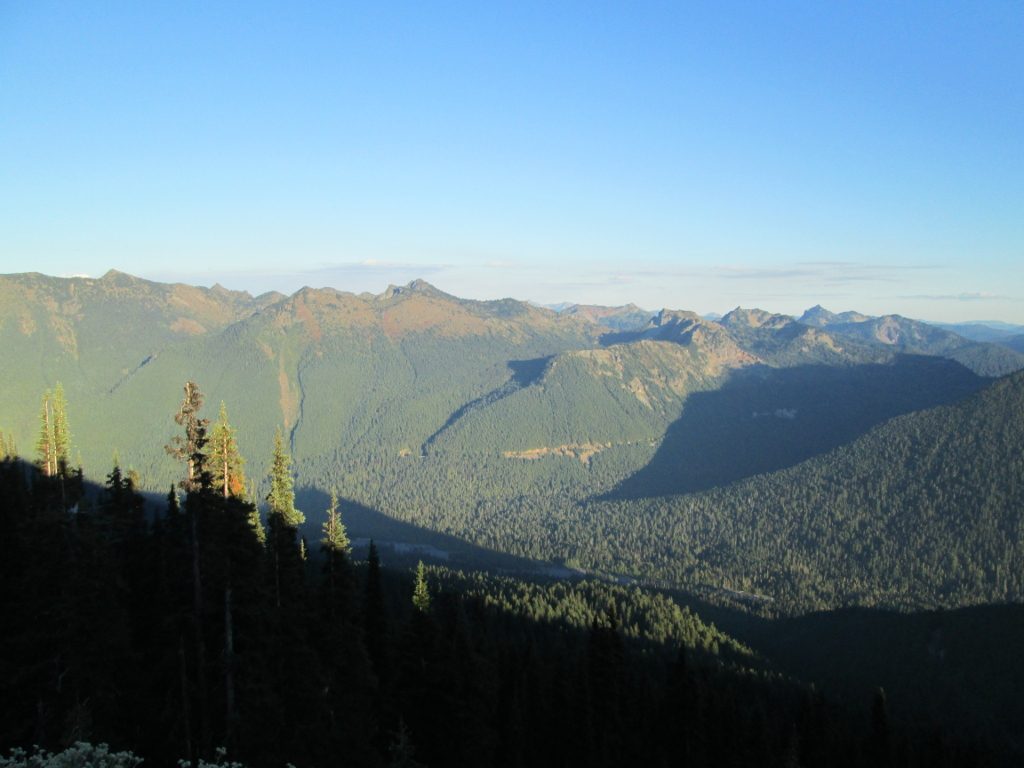 Or witnessed the true majesty of Washington State's Mt. Rainier, up close and personal: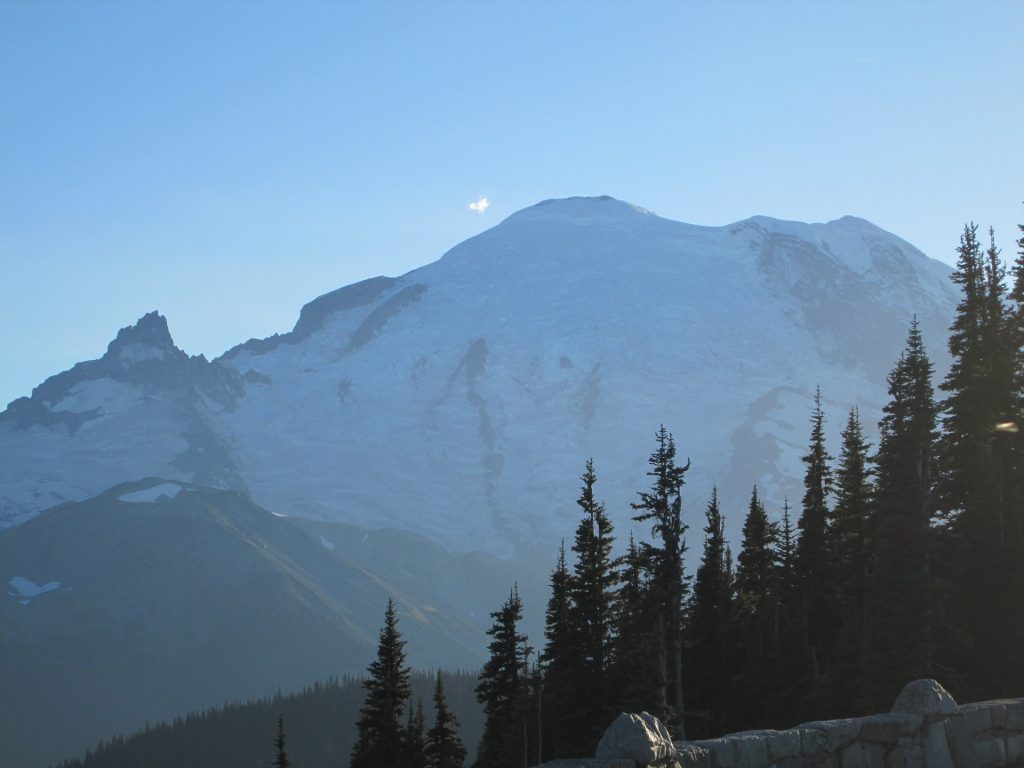 We would have never watched clouds spill over and envelope the peak of Oregon's Mt. Hood: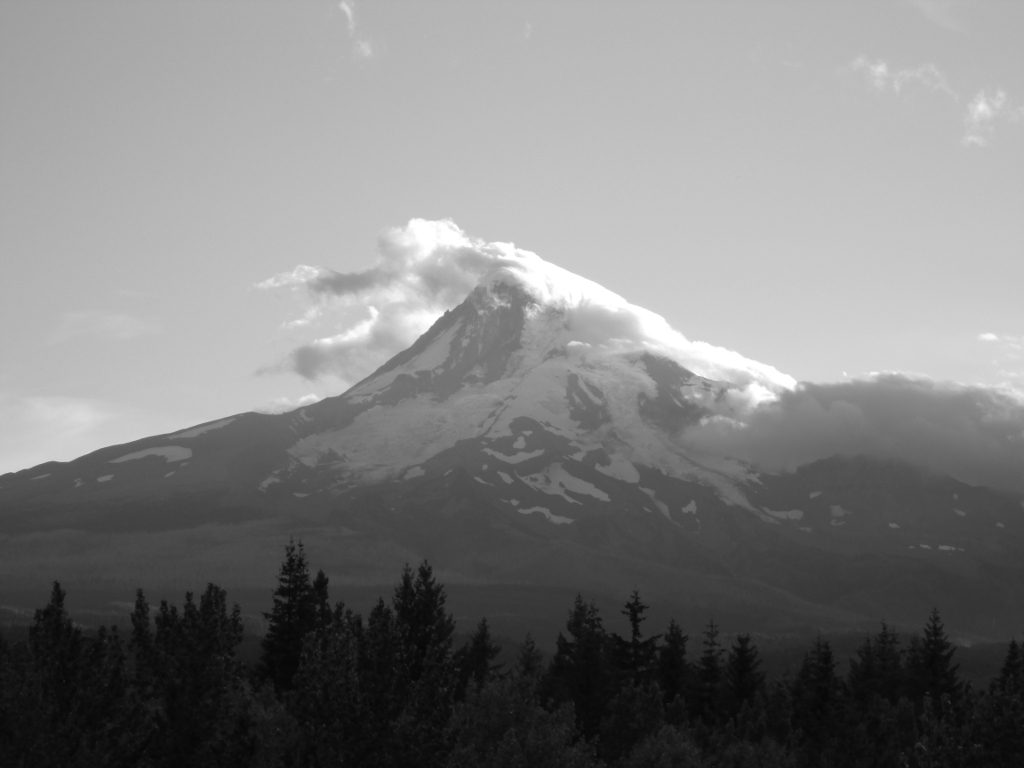 Or experienced the stark solitude of Idaho's Sun Devils range bordering Hells Canyon: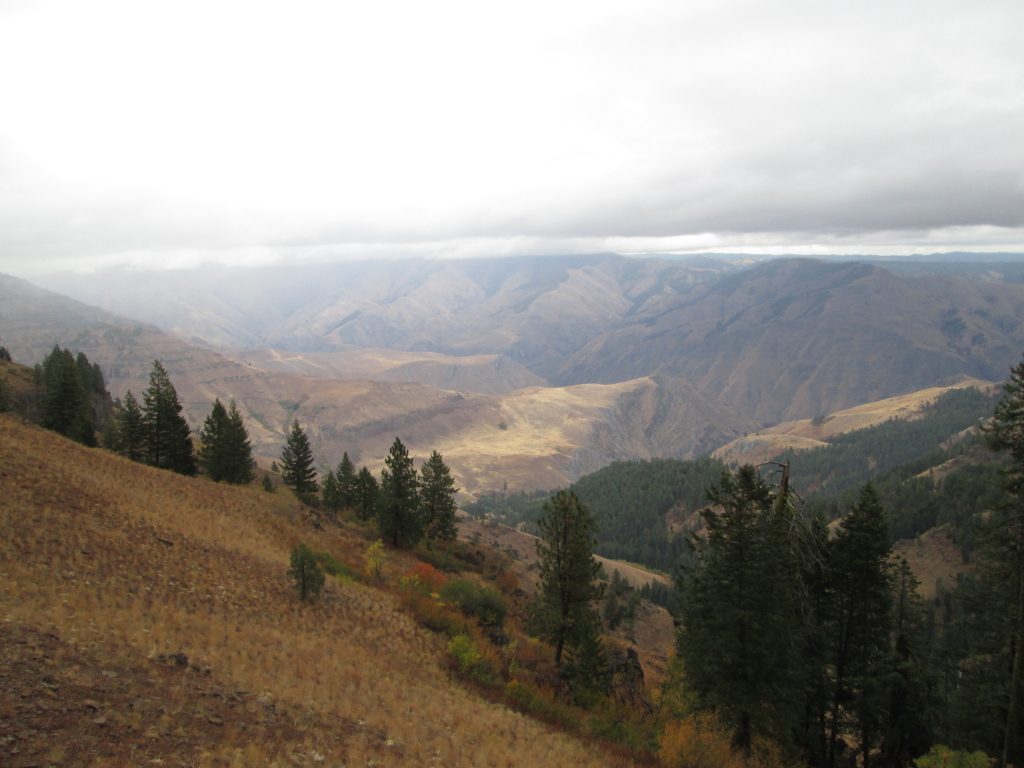 The Bighorn and Beartooth mountains expanded our horizons. And in the process of doing so, changed our lives forever. They emboldened us to embrace parts of who we are that we didn't even know were there. To discover things we didn't know existed. To live a life we didn't know was possible.
I discovered a love of both adventure and mountain photography. Mrs. FFP went from deathly afraid of the very idea of a mountain to falling in love with the sight and smells of their flowers and trees.
The theme of our firstborn child's baby shower, years after this road trip? Mountains. The theme of his nursery? Mountains. The focus of our vacations since 2014? Mountains.
We still aren't the biggest fans of large heights. And you'll never find either one of us volunteering for a selfie with our backs a mere feet from a several-thousand-foot drop. But our knowledge of what lies in, among, and on top of the mountains makes it worth the struggle of ascending them.
Reflections From The Road
So why am I sharing this story with you, and what does it have to do with personal finance?
Facing our fears and tackling those daunting mountain switchbacks forever changed our lives by opening our eyes to a whole new world. We discovered interests and passions we never knew we had. Made memories that will last a lifetime. Experienced beauty that would have otherwise gone unseen.
Financial freedom can expand your horizons and open your eyes to a whole new world in a similar way. Imagine a life free of stress over whether you can put food on the table or pay the bills. A relationship with your spouse that is no longer fraught with arguments, bitterness, and blame regarding money. An end to financial worry and uncertainty.
The freedom to follow your heart and your dreams, without finances holding you back from them. The time to invest in the things that are truly important, like faith, family, and fitness.
These things have the power to transform your life.
Climb Your Money Mountain To Financial Freedom
Much like a mountain facing someone with a fear of heights, the thought of mastering your money can be daunting. Setting intentional goals, tracking your spending, budgeting, investing, tax planning, DIY projects – it can all seem like a monumental challenge.
Too many people are drawn to the foot of their Money Mountain by the allure of what lies at the top, only to walk away without ever ascending it due to fear, a lack of know-how, or a belief that it can't be climbed.
When we were driving up those mountains in 2014, the roads were wide, signage existed where needed, and the guardrails were consistent. My goal here at The Financial Freedom Project is to provide you with the map, infrastructure, and framework you need to reach the summit of personal finance and obtain your own financial freedom.
Your Money Mountain is not insurmountable, but there are no shortcuts. There are many switchbacks you must laboriously master on your way up.
But if you possess the necessary determination and resolve, you WILL eventually reach the top. And when you do, you'll look back with pride on each of those switchbacks which you so arduously traversed in the past, and will be incredibly grateful that you persevered. Your perspective and outlook will be forever changed.
And your life, like ours, will never be the same.
Reader Questions: Is uncertainty or fear of the unknown holding you back from mastering your money? What aspect of personal finance was or is most daunting to you?