Personal Finance Made Easy: Master Your Money With Mint
Personal Finance Made Easy: Master Your Money With Mint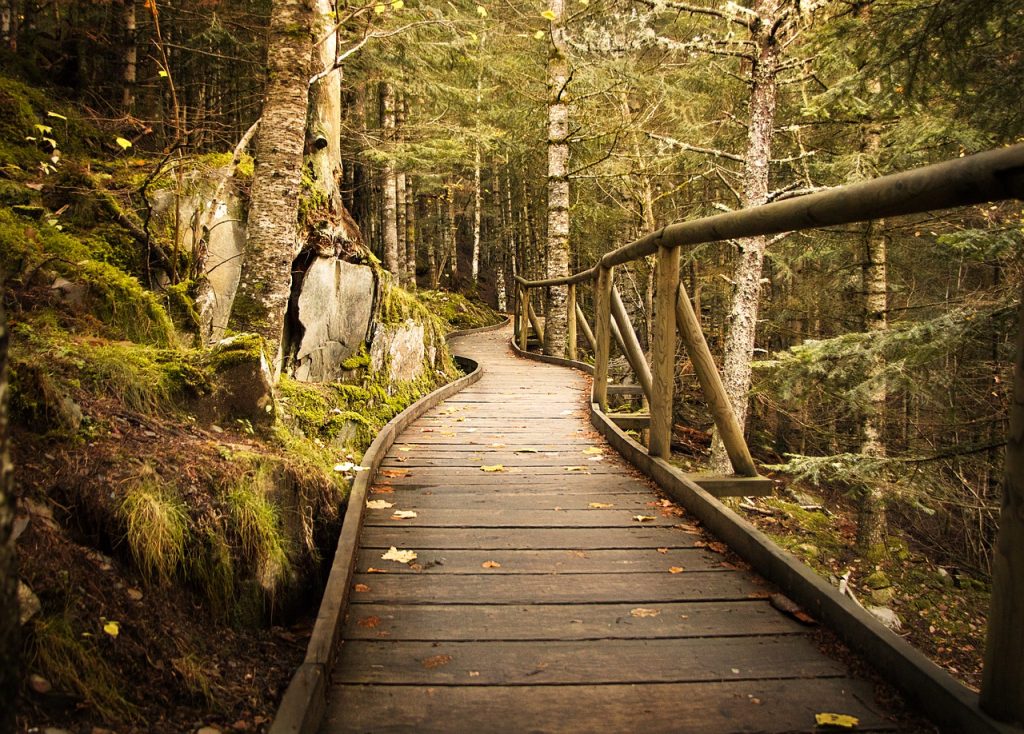 Every journey starts with just a single step. In many cases that first step is the most important, as it represents the difference between thought and action, hesitation and commitment.
Today I'm inviting you to take the very first step on your personal journey to financial freedom – a destination every bit as enchanting as the photo above.
Taking this first step has the potential to forever change your life. It will put you in the driver's seat of your finances, and give you control over your money like you've never had before.
So hoist up that backpack and let's set out – I'll be guiding you every step of the way.

Reading Your Money Map
As we've already discussed, attempting to follow a map without first understanding your current location is an exercise in futility. Attempting to set personal finance goals without first understanding your current situation is just as pointless.
Before starting out on your financial freedom journey, you need to first find your current location on the Money Map. Doing so involves compiling financial account balances and tracking your income, spending, and cash flow.
Sound like a real drag? It can be – even for personal finance aficionados like Mr. FFP. This is where Mint comes in, a money management tool that does all of the grunt work for you.
What Is Mint, Exactly?
Mint is a free, secure, web-based money management software owned and operated by Intuit, the same company that owns and operates the popular TurboTax and QuickBooks software.
Mint serves as a one-stop-shop for understanding your financial footing at a glance, eliminating the need to consult ten different monthly statements or log in to half-a-dozen different online accounts.
Mrs. FFP and I have personally used Mint for the last seven years, and can vouch for the fact that we have yet to find a more effective tool for our financial toolbox. It has been the single most important cog in the engine that has powered us to financial freedom and independence.
The Mission & Purpose of Mint
In the words of Mint's founder, Aaron Patzer – "I really just wanted to take the work out of personal finance. That was the inspiration for Mint.com, to make personal finance easy and accessible for everyone, so you don't have to do accounting."
In under three minutes, the below video provides some context regarding Mint's founding as well as its mission and purpose:
How Mint Works
Mint works by securely accessing your financial accounts and importing details such as transactions and current balances into a single, easy-to-understand interface. You will therefore need to have enrolled in online banking for all of your accounts in order to perform the initial sync with the Mint platform.
Using Mint is as simple as visiting the website and logging in – no need to download any software, and no hidden "gotchas". The service is completely free. For a brief illustration of how Mint works, check out this one-and-a-half minute video:
Overview Of Mint Features
If you're envisioning some dry, checkbook-style software that brings back unwelcome memories of Accounting classwork, think again. Mint utilizes a simple and intuitive interface to display items such as your current account balances, monthly spending, net worth, cash vs. credit card debt, upcoming bills, and the status of your savings goals, to name just a few.
Since a picture is worth a thousand words, below is a screenshot of the home screen of my own Mint account, with specifics blurred for privacy purposes: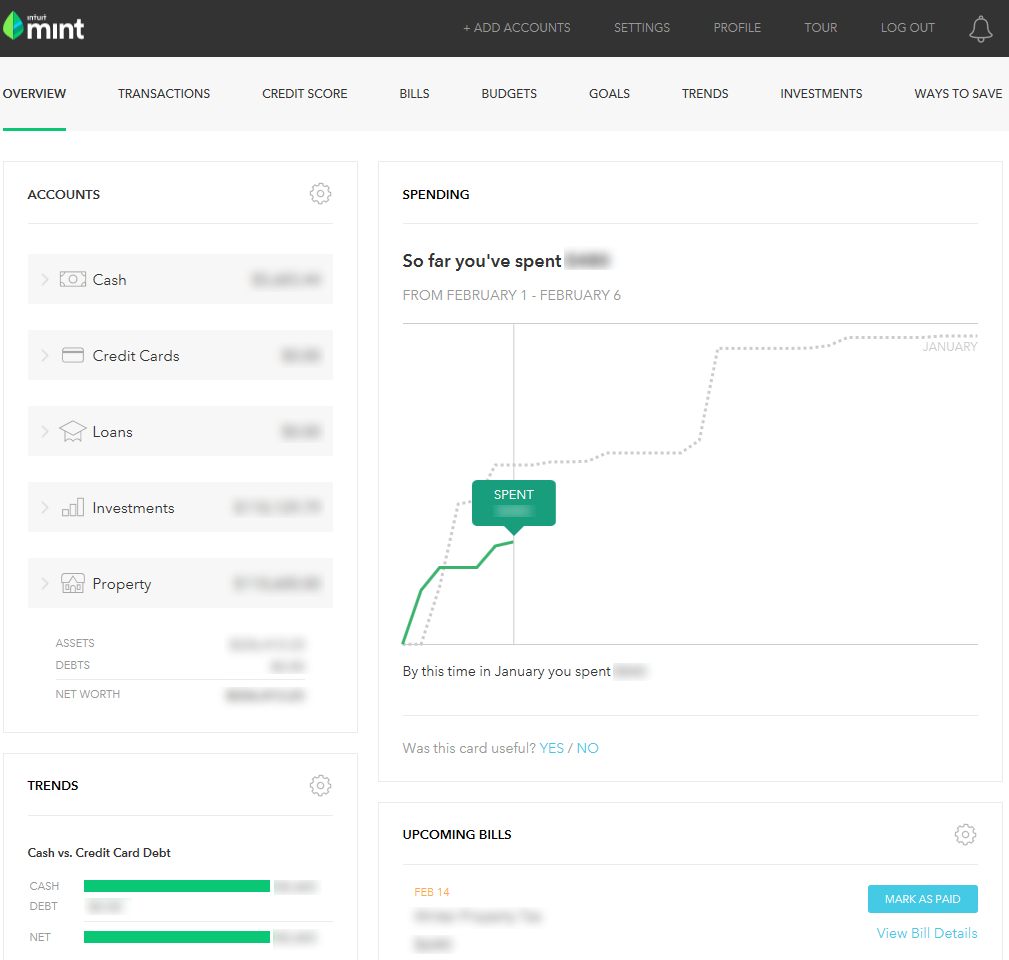 This screen is quite powerful and enables you to quickly understand what's going on in your financial life – how much money you have in your accounts, which bills are coming up soon, and what progress you're making on your savings goals.
Notice the ribbon at the top, which contains menu options for eight other categories. We'll take a look at what each of those involves below. Rather than review them in the order listed, I'll review them in the order which I believe is most logical to a user unfamiliar with Mint's functionality.
Your Personal Bill Pay Assistant
The menu option labeled "Bills" is one of the newest and most welcome features which have been added to the software in recent years.
This functionality enables you to create entries for one-time or recurring bills. Mint then uses this information to present you with a page which summarizes the monthly total of all bills, orders them individually by due date, and lists their payment status.
Mint even presents a handy calendar format indicating when each bill is due in relation to the current date: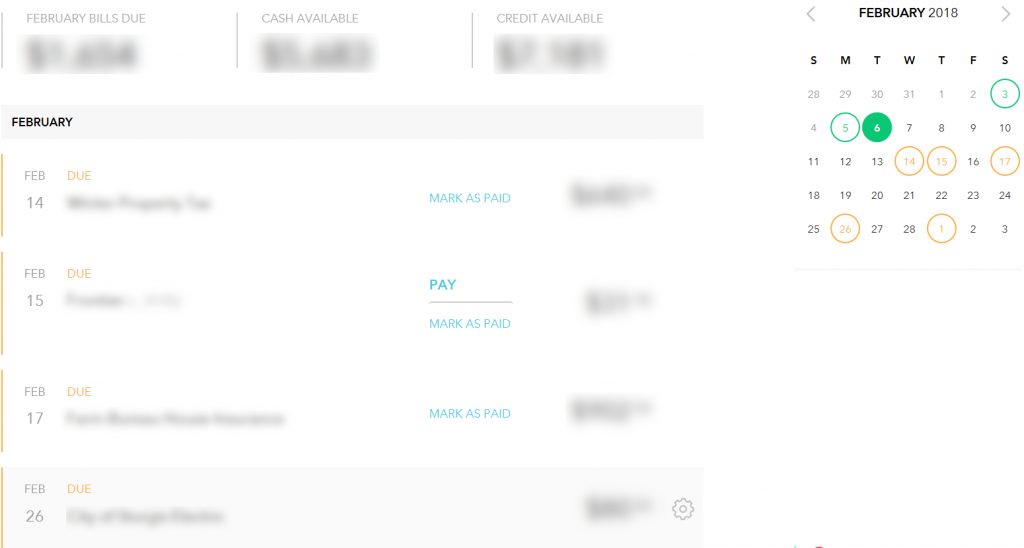 You can set up bill alerts and reminders via email or text. There are also options to pay bills directly from Mint, but we'll review this functionality in greater detail in the next article.
Track Your Income & Spending Effortlessly

One of Mint's most powerful features is its ability to automatically track all of your income and spending, eliminating the need for you to tally them up manually.
Mint does this by using read-only access to import financial transactions from your linked accounts. Once imported, Mint automatically assigns each transaction to one of many existing categories such as "Groceries", "Mobile Phone", "Gas & Fuel", or "Paycheck":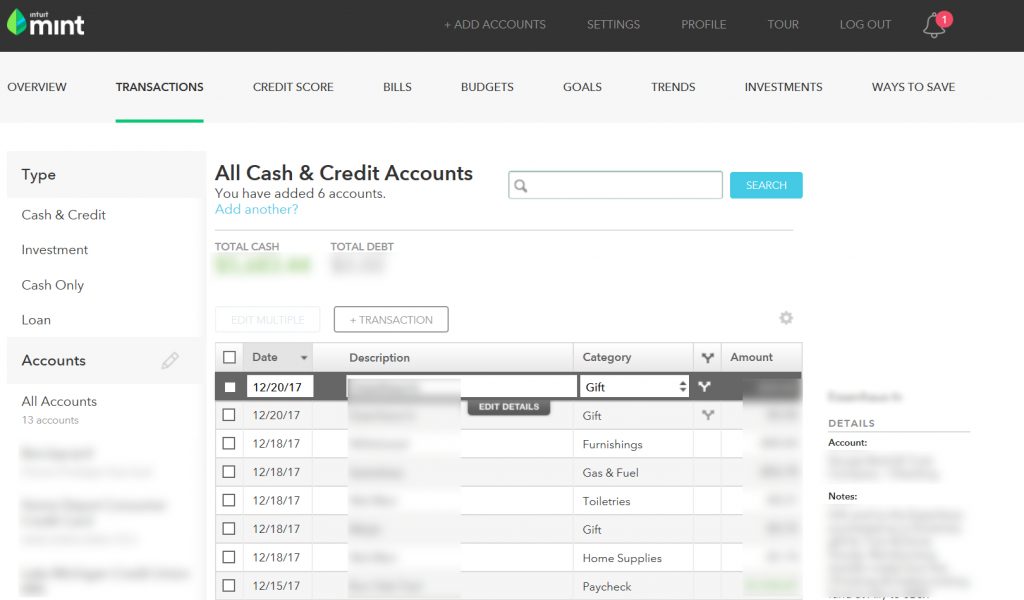 While each transaction will be automatically categorized by Mint, you can change a category assigned to a specific transaction, create your own categories, and even add detailed notes (up to 2,000 characters) to each transaction for sake of future reference: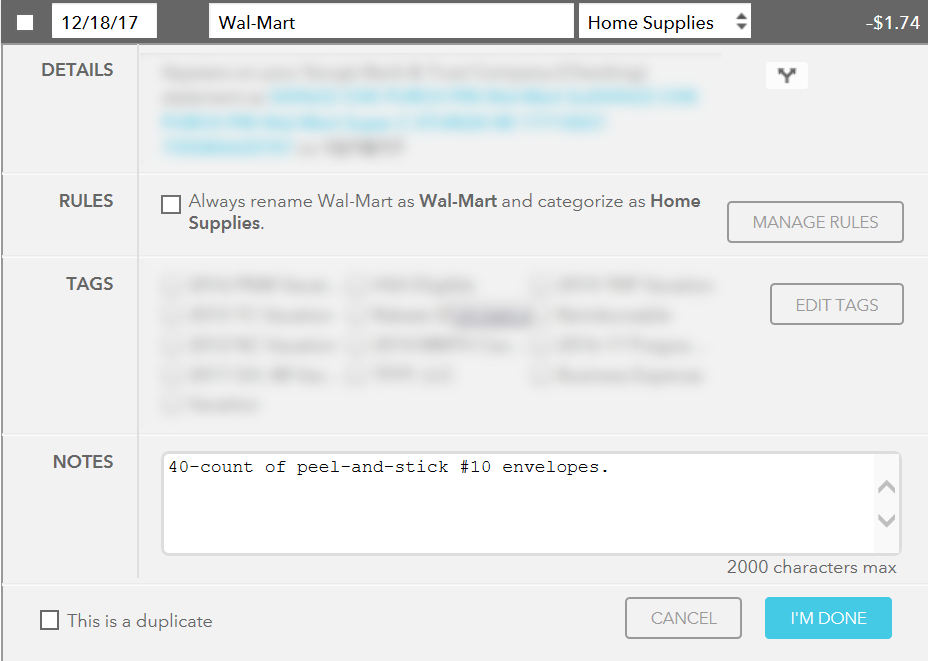 Automate Your Monthly Budget
Mint automatically creates some initial budgets for you based on your past spending habits, as determined by the transactions downloaded from your linked accounts. The initial budgets created are designed to encourage you to save money and represent 20% reductions from your past spending in each category.
Budget categories and current status are represented visually by the use of colored bars to indicate spending as a percent of the assigned total. Spending within budget is indicated by a green bar, orange is used to indicate a budget at capacity, and red indicates spending over budget: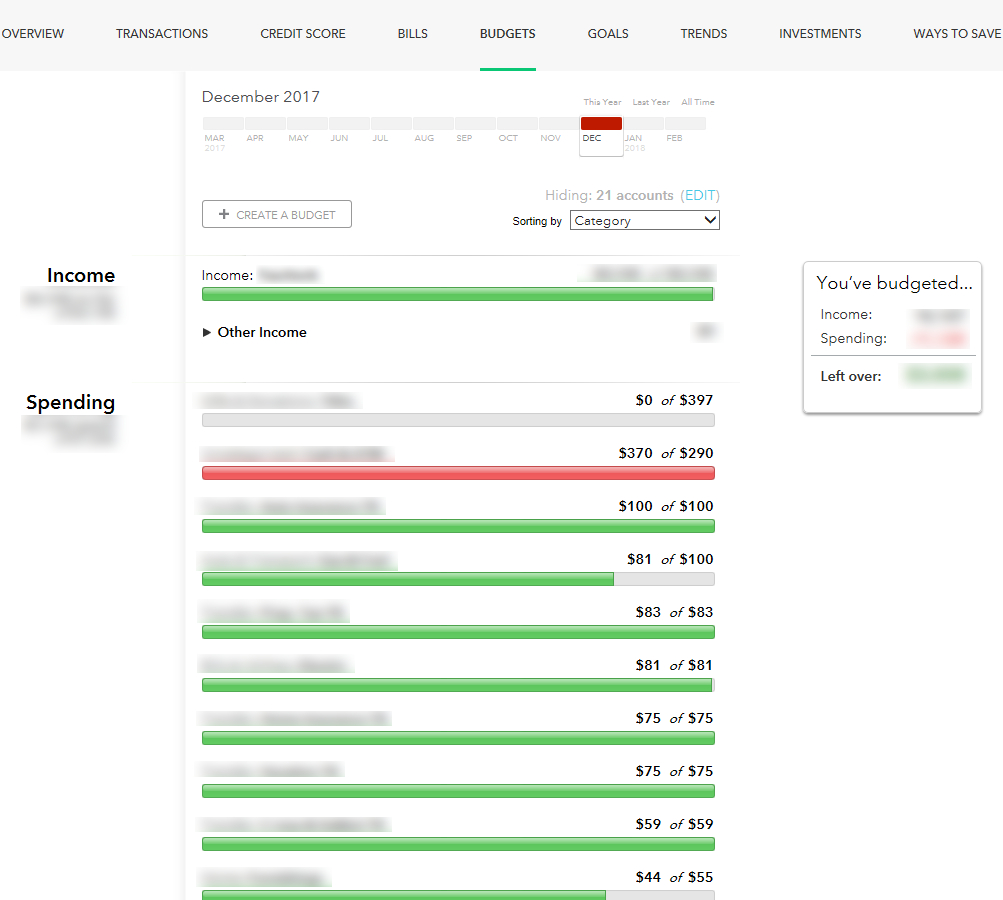 Mint allows you to create additional budget categories and even compare your historical spending for a given category to national averages while establishing a budget.
If you are curious about the spending total within a given budget category, you can pull up a list of all of the transactions contributing to that total with a simple click of the mouse.
Understand Your Spending At A Glance
The expense categorization and note-tracking functionality associated with Mint transactions powers detailed reporting that sheds light on spending habits and trends, informing your financial decision-making.
Want to know how much you spent on gasoline, fast food, or makeup last month? Easy, just head over to the Trends tab and apply the appropriate filters to see a beautiful visual of your spending for the selected date range: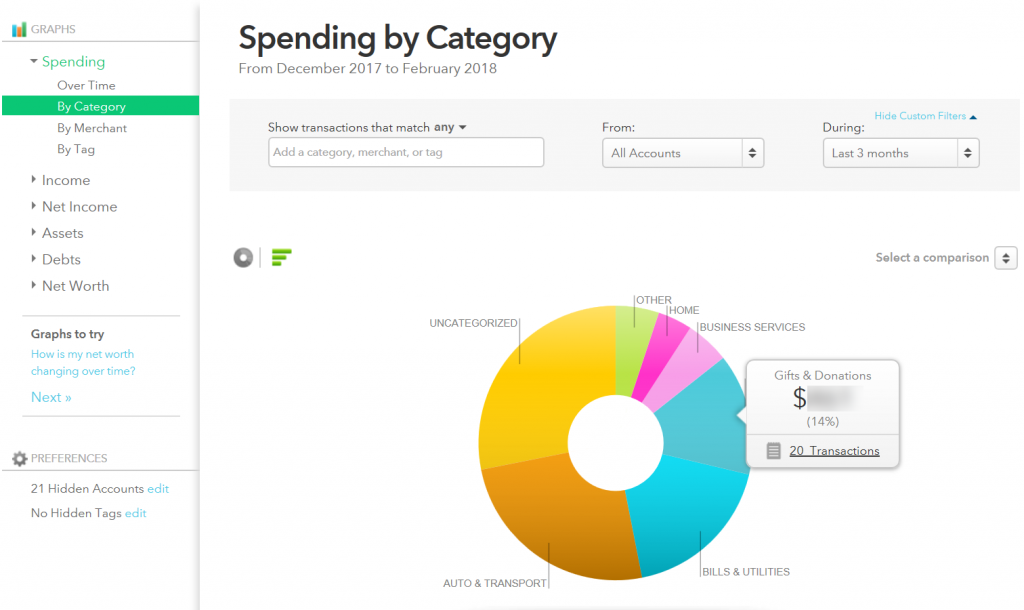 Similar to the Budgets functionality, if you're curious about what transactions contributed to a given category total, you can pull up the list of related transactions (including your notes for each) with a simple click of the mouse.
You can also drill further down into a given category to view sub-categories. In this case, simply clicking on the "Auto & Transport" category in the chart above reveals that "Auto Insurance" and "Plate Renewal" make up the bulk of the total: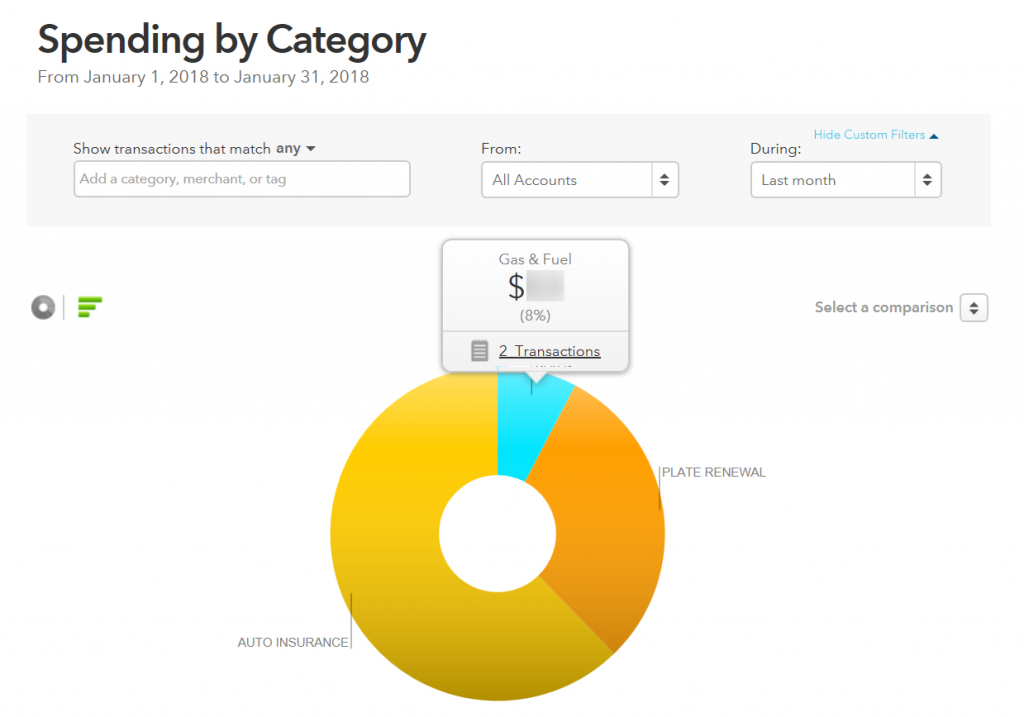 The below video demonstrates in a little over one minute the many other reporting options which Mint uses to quickly inform you of your financial status at a glance:
Create & Track Savings Goals
Working towards paying down debt? Saving up for that summer vacation? Planning a remodel of that dated bathroom? Whatever the savings goal, Mint has you covered.
The goals functionality enables you to create custom savings goals, break them down into monthly savings requirements, and track your progress monthly. Mint will tell you whether you are ahead of or behind schedule, with a "projected" completion date for each goal: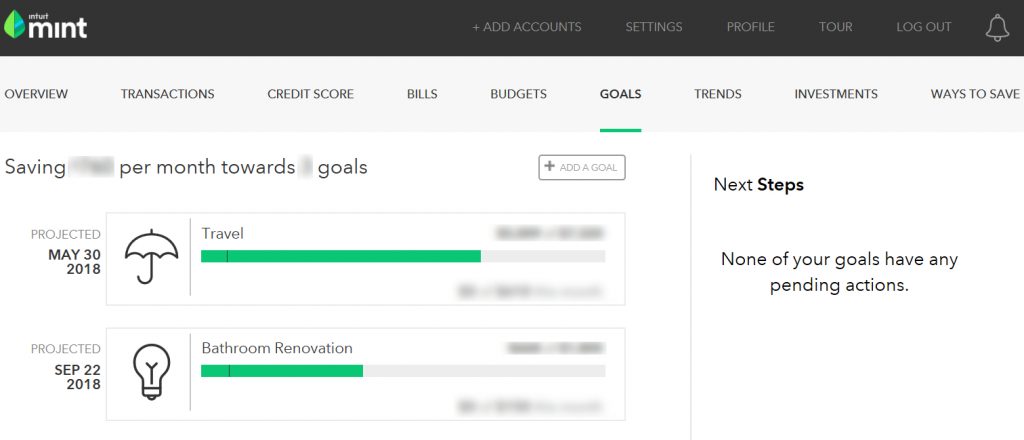 Analyze Investment Performance
Whether you have investments via a 401K through your employer, an annuity through an investment firm, or some individual stocks purchased through a brokerage agency, Mint can sync with your investment accounts as well once you link them.
Your account balance, investment performance, and unrealized gains and losses will be displayed via charts on the Investments tab.
Unfortunately, this is the one area of Mint that has proven unreliable in my experience. The investment functionality has appeared buggy for the last year or two, with the charts failing to display as they used to despite having the latest version of Adobe Flash Player installed: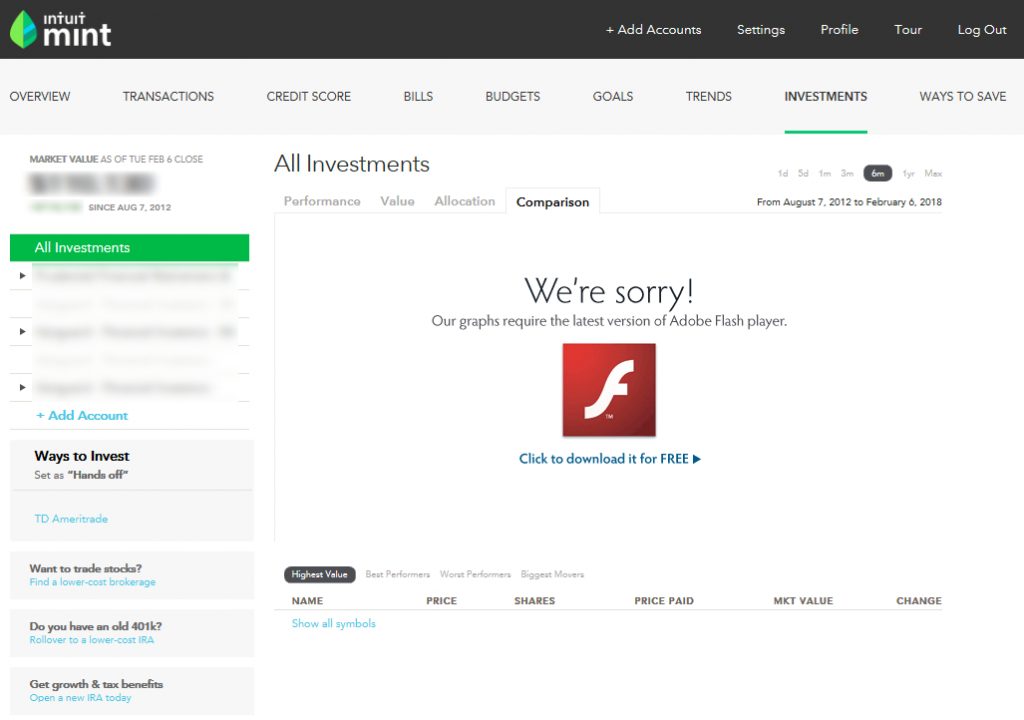 This problem has been reported by many other users in Mint's support forums, but it appears it has not yet been fully resolved. Your experience may vary.
To get an idea of what you can expect when the Investments feature is working properly, check out this one-and-a-half minute YouTube video:
The Investment feature should be considered a "bonus" at this point, as Mint's other features make this one fairly dispensable for those looking to initially master their money. We'll cover a better way I've found to track investments in a future article.
Configure Critical Notifications & Alerts
One of the core pillars of Mint's ability to help you master your money is its notification system, which can be configured to notify you via email or text when account balances fall below a set threshold, large transactions post to their account, or a bill due date is approaching. Below is a sample email: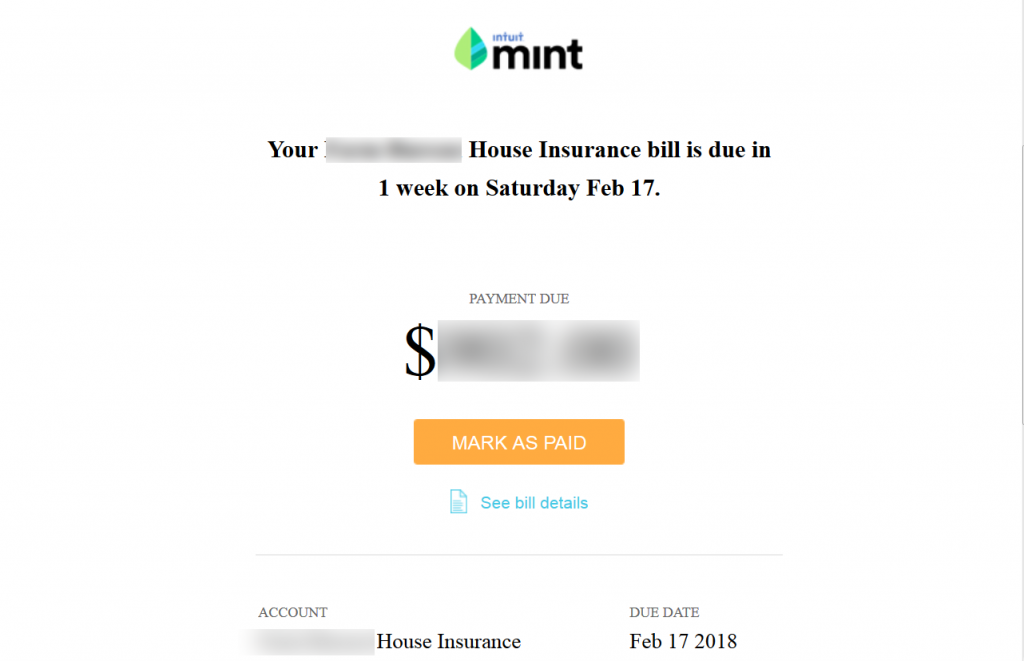 In addition, Mint can send weekly summary emails detailing your weekly spending and savings goal progress so you can stay on top of your money: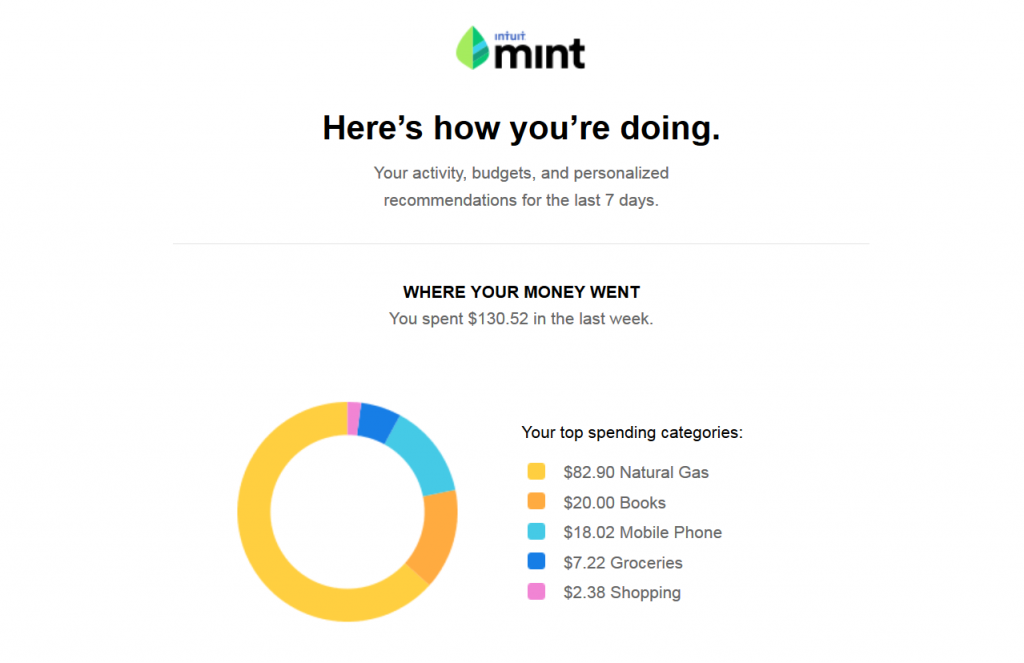 Receive Customized Savings Recommendations
Mint can even serve as your personal financial advisor by reviewing your current account types and usage patterns to identify better savings, checking, investment, or credit accounts that can save you money through better interest rates or lower fees: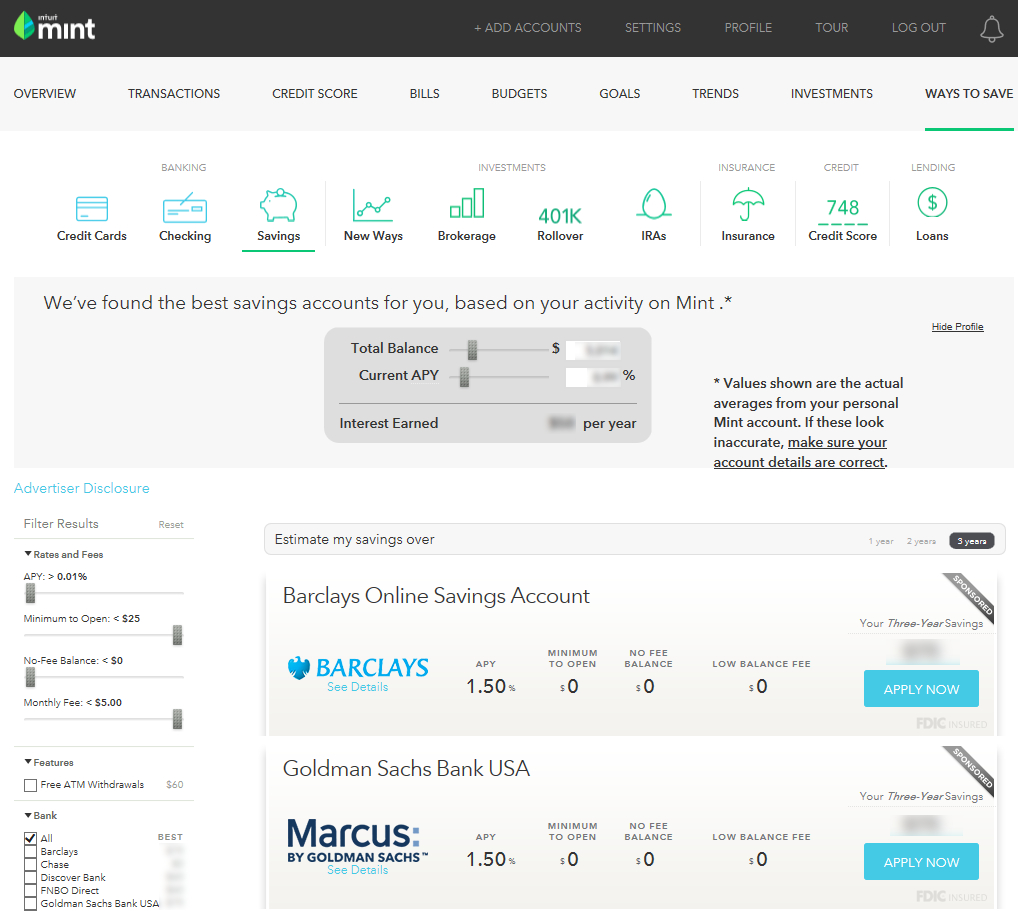 This is how Mint is able to offer their money management tool for free. They make commissions from their partner companies whose products they recommend on this page.
Monitor & Improve Your Credit Score
In the interest of serving as a one-stop-shop for all of your personal finance and money management needs, Mint even provides you with free credit score reporting This feature includes an analysis of and grades for each of the various components affecting your score, as well as recommendations on how to improve it: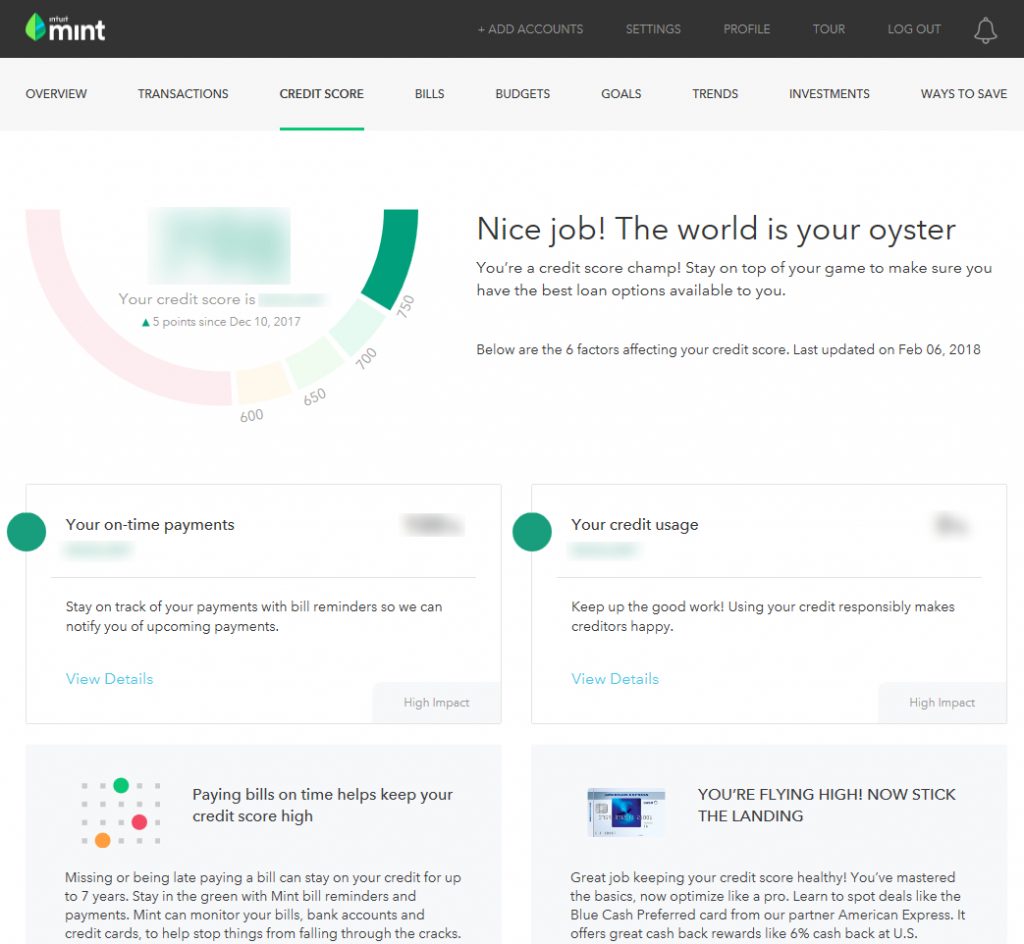 We'll discuss credit scores and their importance later on. For now, consider this a handy perk.
Flexibility & Configurability
Mint is highly capable, but one of its best features is its flexibility and low barrier to entry. You can take advantage of just one, several, or all of Mint's features, and can do so only to the extent and level of detail that you desire.
While Mint possesses the functionality needed to support highly-optimized financial plans that track every single penny, it can also be used just as easily by those who don't desire to track their money to that level of detail.
Is Mint Safe To Use?
If you've made it this far through this article, you're probably thinking Mint's functionality sounds pretty good. However, you might have some lingering security concerns. We'd be remiss not to take a look at the security aspect, so let's do that now.
There's two elements to this topic – one specific to Mint's own security, and the other related to the security of online banking in general, which is required in order to sync your various accounts with Mint.
Security of Online Banking
For information on online banking security, check out Open The Door To Financial Freedom With Online Banking, in which I address this concern in detail including quotes from ID Theft Prevention experts and steps you can take to help ensure your online banking accounts remain secure.
Security of Mint
In regard to Mint specifically, the answer is four-fold. First, it's important to note that no transfers or transactions of any kind related to moving your money can be initiated through Mint – it is a read-only software.
Second, Mint accounts are anonymous, meaning no personally identifiable information like name, address, or social security number is collected from you during sign up. This means that even if your account WAS compromised in some way, neither your identity nor your money would be at risk.
Third, Mint alerts notify you of unusual spending or low balances, enabling you to quickly counteract any fraud you may otherwise experience by notifying your bank or putting holds on your accounts.
Fourth, Mint uses all of the industry-standard bank-level security measures that you'll read about in the previous article regarding online banking. They utilize SSL encryption, multi-factor authentication, and are Norton-secured as well. Remember, this is the same company that owns and operates the popular tax prep software TurboTax.
You can read more about Mint's security protocols at this link. You can also watch Mint founder and CEO Aaron Patzer address your security concerns directly and in detail within the below three minute and forty-eight second video, though it is somewhat dated:
Summary
The intent of this article is to provide a basic overview of Mint's features and its ability to help you master your money with a minimal investment of time or effort on your part. If you'd like additional information regarding how Mint works, you can read more about each of the above features by selecting topics of interest via the menus at the bottom of this page.
We've covered a lot of ground fairly quickly today. If you find yourself feeling slightly overwhelmed, rest easy – we'll be breaking each of the above features down in upcoming articles within the Master Your Money series. These articles will contain step-by-step instructions and examples for how to configure and use each specific section of Mint while implementing it into your personal financial plan.
Next Steps
All you need to do for now is sign up and take about 10-15 minutes to sync all of your online banking accounts with Mint using the credentials you established or collected after reading the last article. Doing so represents the first step to crafting a stress-free system capable of actually mastering your money.
The below video, though somewhat dated, recaps all of the functionality reviewed above and will walk you through the typical sign-up process in under five minutes:
For those of you who have been following the Master Your Money series from the beginning, below are your specific action items derived from this article: